You are here
ISB ES Teams: Winter 2021
The brand new ISB ClubFootball soccer teams for Grades 1 to 5 are kicking off. Managed by ClubFootball, these teams will give children the chance to be part of a soccer team and train and play matches against other teams. Teams are open to boys and girls of all playing levels. Everyone is welcome, and all sessions and matches will be coached by ClubFootball's qualified UK coaches.

The programme is aimed at developing the whole child as well as the junior footballer in a structured but friendly and fun environment. In addition to building a passion for football and developing on-the-pitch skills and knowledge, the principles of teamwork, sportsmanship and leadership are emphasized throughout.

To develop new skills, ClubFootball coaches use the '4-Corner Model' as espoused by the English Football Association. This means that the course and each individual session is designed specifically to develop the Technical & Tactical, Physical, Psychological and Social areas. The graphic here shows the areas which will be incorporated during the course with the aim of all children's all-round holistic development, both as a footballer and as a healthy, active and confident young person.
Course Information

The Winter season runs from Sat 9th Jan to Sat 27th Feb, with Team Tryouts held on 12th Dec. In Winter, teams train indoors on the Dome Turf on Saturdays, with occasional friendly matches against other teams. In Spring, an additional midweek ASA training session may be added, and (depending on playing level) teams may also have the opportunity to play regular league matches in the Shunyi area.
Team Tryouts – Saturday 12th December: To let players try out the training programme, all players are invited to an open team tryout session on 12th December. Times for the team tryouts are the same as for the Winter season (see table below for times of your grade's session).
Kit: for 2020/21, we will be keeping the red/black ClubFootball kit. Students who already have the red/black kit don't need to buy another one. Please note that our stock of kit has already been printed so we are unable to print individual names on the back of the shirt this season.

Registration Form: please click here to download the form, and send it back to coaching@clubfootball.com.cn or to the ClubFootball WeChat, along with a screenshot of your payment by Alipay or bank. Please remember to write your child's name and your mobile number in the Alipay payment notes so we can match the payment to your registration!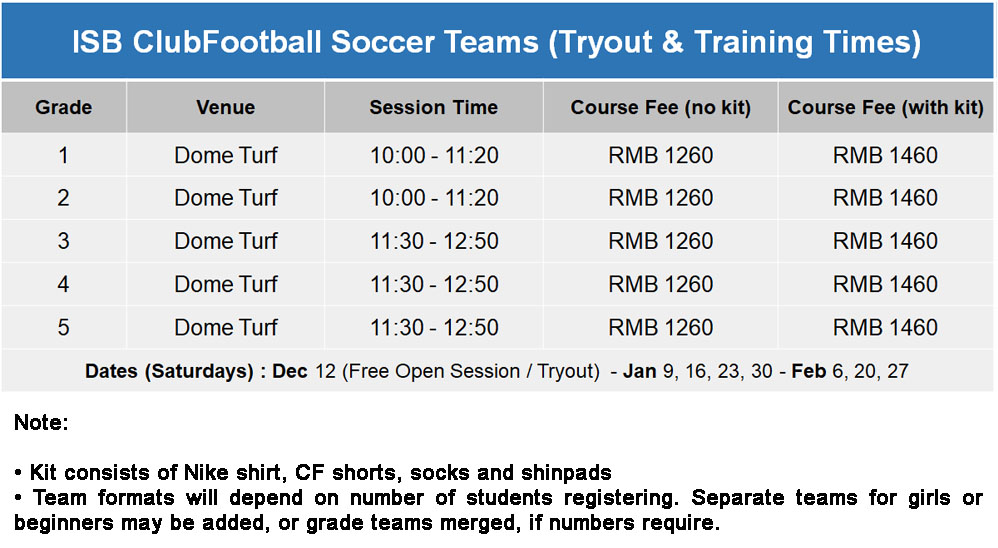 Course Notes
Important Update: All parents are asked to read the club's Discount & Refund Policies and Bad Weather & Pollution Policies before registering. The Registrations Policy sets out rules for discounts and refunds, and also clarifies venue rules and tips on how to get the best from your course. The Bad Weather & Pollution policies clarify procedures for cancellations due to rain and snow, and sets out API limits for each type of course, as well as the procedures to be followed should pollution readings require cancellation.
In particular, please note that to ensure parents have quick access to weather information, cancellations due to weather will be posted on the club's WGQXJuniors Weixin/WeChat account. Please note that from Spring 2017, to ensure the fastest possible access to information for parents, weather info will only be posted on the club's Weixin account and not on the club website.
Please note that for better service, each parent will be invited to join a specific WeChat group for their child's course. This group will be used for providing information on course content to help you get the most from your ClubFootball course, as well as important news on new courses, matches, venue changes and weather issues.

How To Register
To register for the course, please:
1.
Click here to download
a Registration Form and read through the registration notes on side 2 carefully.
2. Fill in the form clearly and send it to ClubFootball by WeChat or to coaching@clubfootball.com.cn along with a screenshot of your payment. Please note your place on the course will only be confirmed once payment and registration form have been received. This is particularly the case due to Covid-19 procedures, so everyone MUST fill in a registration form and pay their course fee to book a place.

3. Pay your course fee: ClubFootball's Alipay information is below. Please be sure to write your child's name, group, and your mobile number in the notes so we can identify the payment as yours.
Account: office@wanguoqunxing.com
Account name: 北京万国群星足球俱乐部有限公司

Please note: to ensure groups are well-organised, paying on the first day of the course is not permitted, and places are allocated on a first-come, first-served basis. Thank you for your understanding!

For more information, please follow our official WeChat (WGQXJuniors) or call 5130 6893/4/5/6.