You are here
DCP ClubFootball 'Summer Skills Camp':Summer 2019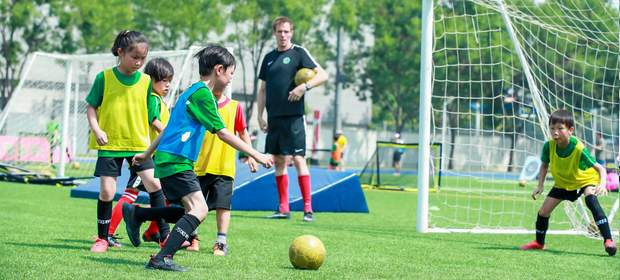 The registration of DCP ClubFootball Summer Skills Camps is open now! The camp is for kids from 5-15 and all schools. Courses are held in the Dome and on the football field at Dulwich College Beijing's Legend Garden Campus.
Everyday's sessions follow a daily theme, with the second half of each session devoted to applying the new skills and techniques in matchplay situations!

ClubFootball's age and level appropriate curriculum is overseen by our Director of Football Alex Arnold (ex-Liverpool FC International Academy head coach), and is designed to maximise each child's technical, tactical, social and psychological development through engaging, educational and enjoyable coaching sessions.

All ClubFootball classes are taught in English with Chinese translation by our team of full-time FA/UEFA qualified coaches from the UK, who use the latest coaching philosophies to encourage healthy, happy, creative and inspired young footballers!
Course Information
Dulwich College Beijing's Legend Garden Campus - Summer Skills Camps - Dome/Pitch

Grade
Course Dates

Date of Birth
Days
Session Time

Course Fee

(Half Day)

Course Fee

(Full-Day)


K/R-2

2019.06.24-28/

2019.08.05-09


2011.09.01 - 2014.08.31

5

09:30 - 12:00

RMB 2000


-

2-9


2019.06.24-28/

2019.08.05-09

2004.09.01 - 2011.08.31

5

09:30 - 12:00

13:00 - 16:00

RMB 2000




RMB 400

0

*Half or full-day available for Yr2+
Course Notes
*Important Update: All parents are asked to read the club's Discount & Refund Policies and Bad Weather & Pollution Policies before registering.
*10% Discount for each new student you refer who joins the camp! 10% Discount for first sibling, 20% Discount for second sibling!
*Full-day students should bring a packed lunch (light and healthy is best!)
*Sessions will be held indoors in the Sports Dome, or outside on the ES soccer field, depending on the weather.
*Daily bus leaves from the Kempinski Hotel (Liangmaqiao) providing a minimum 10 students require the bus. Pls contact us for info.
*Please note WGQXJuniors is set up especially for players registered on ClubFootball courses. Please follow this account for latest updates and important news on venue changes and weather issues.
How To Register
Please note that students unavailable for these class-times can contact us for details on other courses nearby. To ensure groups are well-organised, players are asked to complete their registration and pay thier course fee as soon as possible. Places are limited and are allocated on a first-come, first-served basis.
At ClubFootball:

China ClubFootball, Unit A316, Door 3, Zone A1, Zhaowei Huadeng Plaza, Zhaowei Building #51, 14 Jiuxianqiao Road, Chaoyang District. (Tel: (010) 5130 6893/4/5/6), open Monday to Friday, 9am - 6pm

At ClubFootball WeChat platform any time
Online (contact us for info)
To your coach (students currently on ClubFootball courses can register directly with their coach)
By phone/email: Please call ClubFootball on 5130 6893/4/5/6 or email us

to register. Please note that course registrations can only be accepted with the correct course fee. Please

contact us

for bank details if you prefer to pay course fees by bank transfer.
Please note the Dulwich College Beijing School Office can not accept registration for this programme.